Garmin Venu 2 is a feature-packed smartwatch designed to enhance the fitness and lifestyle experience of its users. One of its standout features is the ability to add and listen to music on the go.
This article will guide you through the process of How to Add Music to Garmin Venu 2, allowing you to enjoy your favorite tunes.
How to Add Music to Garmin Venu 2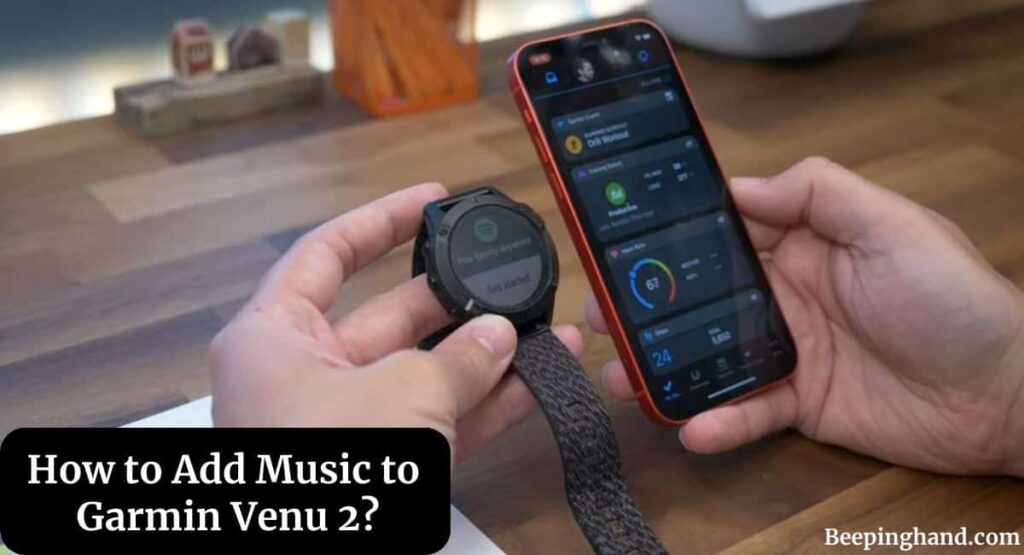 If you are wondering to know that how can you add music to your Garmin Venu 2 then you have come to the right place. Here, we are going to share detailed information.
Garmin Venu 2 Music Features
Garmin Venu 2 is a GPS smartwatch that boasts advanced health and fitness tracking capabilities. It comes with a vibrant AMOLED display and is equipped with numerous features like heart rate monitoring, sleep tracking, and built-in sports apps.
Music Playback Capability
One of the most appealing features of Garmin Venu 2 is its music playback capability. You can store and listen to your favorite tracks directly from your wrist without the need for your smartphone.
Supported Music Services
Garmin Venu 2 supports popular music streaming services like Spotify, Deezer, and Amazon Music. With these services, you can access a vast library of songs and playlists, keeping you motivated during your workouts.
Music Storage Capacity
The smartwatch offers ample music storage capacity, allowing you to store hundreds of songs. This means you can leave your phone behind and still enjoy a wide variety of music without interruptions.
Connectivity Options
To add music to Garmin Venu 2, you have two main connectivity options. You can either connect the watch to Wi-Fi or pair it with your smartphone via Bluetooth.
How to Add Music to Garmin Venu 2
Here are the steps to add music to your Garmin Venu 2 –
1. Preparing Your Garmin Venu 2
Before you start adding music, ensure your Garmin Venu 2 is fully charged. Also, make sure the watch is connected to Wi-Fi or paired with your smartphone.
2. Connect to Wi-Fi
To use the Wi-Fi option, navigate to the settings on your Garmin Venu 2, and select "Wi-Fi." Connect to a stable Wi-Fi network and ensure the watch is within range. Once connected, you can proceed with adding music.
3. Link Music Services
If you prefer to use music streaming services, you need to link your Garmin Venu 2 with your accounts. Access the Garmin Connect app on your smartphone, go to the "Music" section, and select the desired service. Follow the on-screen instructions to link your accounts successfully.
4. Transferring Music from Computer
Garmin Venu 2 allows you to transfer your personal music collection from your computer. Connect the watch to your computer using the provided USB cable. Your watch will appear as a storage device on your computer. Drag and drop music files from your computer to the "Music" folder on your Garmin Venu 2.
5. Syncing Music from Mobile Apps
If you use supported music streaming services, you can sync playlists and albums directly to your Garmin Venu 2 from your smartphone. Open the Garmin Connect app, go to "Music," and select the content you want to sync with your watch.
Tips for Music Management on Garmin Venu 2
Organizing Playlists
To keep your music collection organized, create playlists based on your preferences. Organized playlists make it easier to find the right tracks for different occasions.
Removing Music from Garmin Venu 2
If you want to free up storage space or remove unwanted songs, you can delete them from your Garmin Venu 2. Use the watch's interface or the Garmin Connect app to manage your music library.
Updating Music Library
As your musical preferences evolve, you might want to update your music library. Regularly sync your watch with your favorite music apps to keep your playlist fresh and up-to-date.
Troubleshooting Music Issues
If you encounter any issues with your music playback or syncing, refer to Garmin's support resources or contact their customer support for assistance.
Enhance Your Workout with Music
Music and Fitness Motivation
Music has a powerful impact on workout motivation. Create playlists that match the intensity of your workouts to keep yourself energized and driven to achieve your fitness goals.
Selecting the Right Tracks
Choose tracks that resonate with your workout style and personal preferences. Upbeat tunes with a fast tempo can boost your performance during high-intensity exercises, while soothing melodies can be perfect for yoga or stretching sessions.
Using Music During Workouts
During your workout, control the music playback directly from your Garmin Venu 2. Skip tracks, adjust the volume, or pause the music without interrupting your training.
Wrapping Up
This article is all about How to Add Music to Garmin Venu 2. Adding music to Garmin Venu 2 is an easy process that elevates your smartwatch experience to a new level. Whether you prefer to store your personal music collection or stream from popular services, Garmin Venu 2 has you covered. Enjoy the benefits of music during your workouts and daily activities.
I hope this article was helpful to you and if you still find any queries then you may ask in the comment box. For more information visit the Help and Support Page.
FAQ's How to Add Music to Garmin Venu 2
Can I use Garmin Venu 2 without a smartphone to listen to music?
Yes, Garmin Venu 2 can store music directly, allowing you to listen without a smartphone.
What is the music storage capacity of Garmin Venu 2?
Garmin Venu 2 offers up to 650 songs storage capacity.
Can I listen to music while using sports tracking on Garmin Venu 2?
Yes, you can listen to music while using any of the built-in sports apps.
Is Garmin Venu 2 compatible with Apple Music?
Unfortunately, Garmin Venu 2 does not support Apple Music at the moment.
How do I know if my music is synced successfully to Garmin Venu 2?
Once you've synced your music, you'll see the tracks and playlists in the "Music" section on your watch.