Fossil smartwatches stand out as a perfect blend of style and functionality. These sleek devices not only tell time but also offer a range of features to keep you connected and organized. If you've just bought a Fossil smartwatch or are simply looking to power it on after a period of rest.
This guide will take you through the steps on How to Turn On Fossil Smartwatch. So, keep reading this article for complete information.
How to Turn On Fossil Smartwatch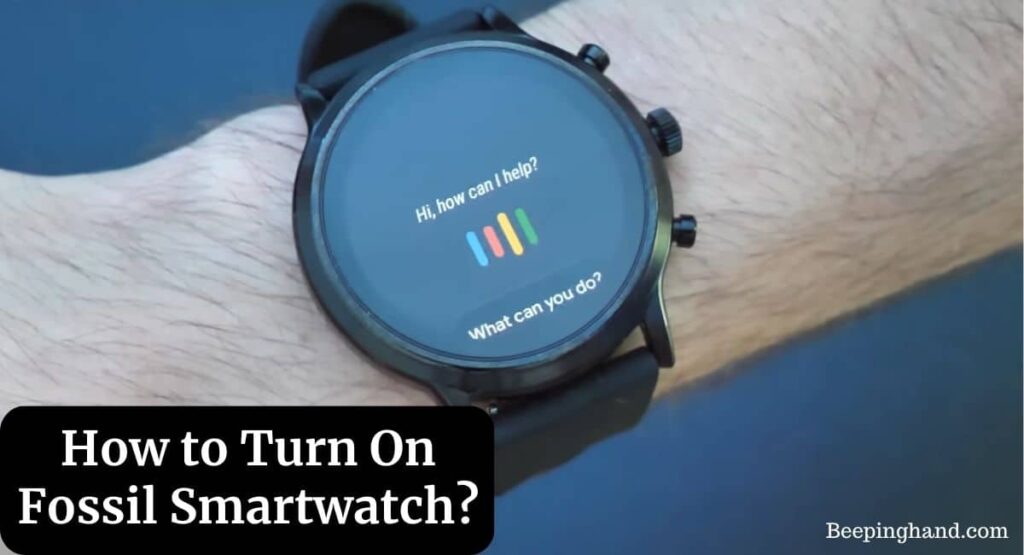 If you are wondering to know that how can you Turn On/ Off your Fossil smartwatch then you have come to the right place. Here, we're sharing easy steps to Power On/ Off your smartwatch.
Charging Your Smartwatch
Before attempting to turn on your Fossil smartwatch, ensure that it has sufficient battery power.
Here's how to charge it –
Connect the charging cable to your Fossil smartwatch.
Plug the other end of the cable into a USB port or a power adapter.
Allow your smartwatch to charge for at least 1-2 hours or until the battery is fully charged.
Turn On Fossil Smartwatch
Once your Fossil smartwatch is charged, you can turn it on using the following steps –
Locate the crown button on the side of your smartwatch.
Press and hold the crown button for a few seconds.
As you hold the button, the Fossil logo should appear on the screen, indicating that your smartwatch is powered on.
Steps to Turn Off Fossil Smartwatch
Turning off your Fossil smartwatch is just as simple. Here's how you can do it –
Press and hold the power button on the side of the watch.
A menu will appear on the screen.
Tap on the "Power Off" option.
Confirm the action if prompted.
What to Do If Your Smartwatch Doesn't Turn On
If your Fossil smartwatch doesn't turn on despite following the above steps, consider these troubleshooting measures –
Check the Battery – Ensure that your smartwatch is sufficiently charged by connecting it to the charger and waiting for a while.
Reset the Smartwatch – If the screen remains blank, you can try performing a soft reset. Press and hold the crown button for about 10-15 seconds until the Fossil logo appears.
Contact Support – If the issue persists, reach out to Fossil's customer support for further assistance.
Also Read: Reset Fossil Smartwatch
Tips for Maximizing Your Fossil Smartwatch Experience
Here are some tips for the Fossil Smartwatch –
1. Customize Watch Faces
Personalize your smartwatch by selecting a watch face that suits your style and needs. Fossil offers a variety of watch faces, allowing you to display information such as time, date, weather, and more at a glance.
2. Connect to Your Smartphone
To unlock the full potential of your Fossil smartwatch, pair it with your smartphone. This connection enables features like notifications, call alerts, and remote control of your phone's camera and music.
3. Explore Apps and Features
Fossil smartwatches come with a range of built-in apps and features. Take some time to explore these offerings, such as fitness tracking, heart rate monitoring, and app notifications, to make the most of your device.
Wrapping Up
This article is all about How to Turn On Fossil Smartwatch. Turning on your Fossil smartwatch is the first step toward unlocking a world of convenience and connectivity right from your wrist. By following the simple steps in this guide, you can power on your smartwatch and embark on a journey of seamless integration between fashion and technology.
If you have any queries then you can ask in the comment box. We'll answer all your questions. Apart from all these, you can also visit Help & Support
FAQ's How to Turn On Fossil Smartwatch
How long does it take to fully charge a Fossil smartwatch?
It typically takes about 1-2 hours to fully charge a Fossil smartwatch, depending on the model and battery capacity.
Can I use my smartwatch while it's charging?
Yes, you can use your Fossil smartwatch while it's charging. However, keep in mind that using power-intensive features may slow down the charging process.
Do I need a smartphone to use a Fossil smartwatch?
While a smartphone is not required, pairing your Fossil smartwatch with a smartphone enhances its features and functionality.
How do I change the watch face on my Fossil smartwatch?
To change the watch face, press and hold the current watch face on your smartwatch's display. You can then browse and select from the available watch faces.
What should I do if my Fossil smartwatch is unresponsive after turning it on?
If your smartwatch remains unresponsive, try performing a soft reset by pressing and holding the crown button. If the issue persists, contact Fossil's customer support for guidance.