It is very easy to measure heart rate with Smartwatch If you don't know How to Measure Heart Rate with Smartwatch then Keep reading the article. This article will help you and guide you to measure your heart rate using a smartwatch.
This article also contains some important information regarding measuring heart rate through a smartwatch, that's why you should read this article completely.
How to Measure Heart Rate with Smartwatch
As the demand for smartwatches is increasing throughout the world because of its Fitness Tracking system. Smartwatches really help to track various fitness activities and show the report to the users like – Count of steps, Heart Rate, Stress Level, etc. But, many people don't know how to measure all fitness activity through a smartwatch. That's why, we are providing all these kinds of information on this blog.
Keep in Mind before Measuring Heart Rate
Before you measure your Heart Rate with Smartwatch you should keep a few things in mind which are given below –
Don't move or shake the smartwatch while measuring heart rate
Make sure that your Hand is touched with the smartwatch sensor
How Does Smartwatch Measure Heart Rate
Every smartwatch has some sensors at the backside of the smartwatch and these sensors are very small and are designed to measure various fitness activities of a person. When you wear a smartwatch then these smartwatch sensors touch your hand. These smart sensors are designed in such a way that they give almost 95% accurate results of Heart Rate, Stress Level, and other measurements.
How to Measure Heart Rate with Smartwatch
Firstly, Wear a smartwatch comfortably in your hand
Now, open the smartwatch and Slide towards the left.
Go to the option of "Heart Rate"
Tap on the "Heart Rate" option then wait for a few seconds
After a few seconds, it will show the Heart Rate on the screen as BPM (Beats Per Minute)
For a normal person, the BPM should lie between 60 to 100 BPM. (Wikipedia)
Smartwatch Heart Rate Monitor Accuracy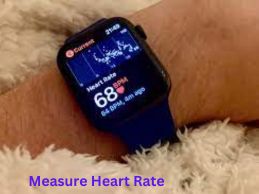 Given above steps can help you to measure heart rate with a smartwatch. But, You must not rely on the accuracy of the smartwatch. If you are serious to know your Heart Rate then, you must use medical equipment to measure accurate Heart Rate. Because the smartwatch does not come with 100% accurate results. (Source)
How to Measure Heart Rate in Boat Smartwatch
Follow the below steps to measure heart rate in boAt Smartwatch –
Wear the smartwatch on your wrist.
Now, go to settings and press the option "Heart Rate"
Place your wrist on a flat surface, and keep your hand still while the measurement is being taken.
After a few seconds, the Heart Rate measurement will be displayed on your smartphone screen, along with your other health metrics.
Wrapping Up
This article is all about How to Measure Heart Rate with Smartwatch. measuring heart rate with a smartwatch offers a convenient way to monitor your heart rate in real time. While smartwatches provide valuable insights, it's important to remember that they are not medical devices and their accuracy may vary. For accurate medical assessments or if you have any concerns about your heart health, it's advisable to consult with a healthcare professional.
Read more about Connecting Smartwatch to mobile, set smartwatch faces, etc. You just remember the name BeepingHand.com for your smartwatch guide
FAQ's How to Measure Heart Rate with Smartwatch
How do I measure my heart rate with a smartwatch?
If you want to measure your heart rate with a smartwatch, you usually need to wear the watch on your wrist and activate the heart rate monitoring feature through the device's settings or dedicated app. The smartwatch will then use optical sensors to detect and measure your heart rate.
How accurate is the heart rate measurement on a smartwatch?
The accuracy of heart rate measurements on a smartwatch can vary depending on factors such as the quality of the sensors, the fit of the watch, and individual variations. While smartwatches have improved in accuracy over the years, they may not be as accurate as medical-grade devices.
Can I rely on my smartwatch for medical heart rate monitoring?
Smartwatches are not intended to replace medical devices for heart rate monitoring. While they can provide useful information for fitness and general wellness purposes, they may not be suitable for medical diagnosis or monitoring of specific health conditions.
Can I use a smartwatch to track my heart rate during exercise?
Yes, many smartwatches have dedicated exercise modes that provide real-time heart rate monitoring during workouts. This can help you track your heart rate zones and monitor your exertion levels during physical activity.